Audiology Rooms
Audiology rooms provide a relaxing environment to the staffs as well as to patients. We're reckoned as the best manufacturer, supplier and installer of the audiology booths. Our crew of proficient engineers is specialized in the domain of sound/acoustic and will deliver you the premium quality with long durability audiology booths. We guarantee you to offer an entirely sound proof audiology booth that will provide a soothing atmosphere. Our manufactured audiology booth is efficient to provide noise reduction level from between 35 to 60dB. The wide range of audiology booths is available in different sizes and configurations that will meet your requirements. Audiology Rooms should be sound proofed and should keep all the unnecessary sounds outside the room. The audiometric booths are used for the screening for pre-employment evaluation testing, bone conduction testing, learning and speech therapy, psychological and behavioral testing. Such booths are designed as per the convenience of the customers and have made the right use of the advanced technology. Depending on your cost spending, the booths are available in variable sizes with the suitable amenities, can be modified as per the specifications given by the patrons.


---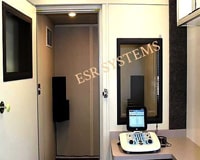 Audiometry Room
ESR System has developed expertise in designing high quality, eco friendly, standardized Audiometry Rooms over a decade. All the parameters like environment norms, pollution board guidelines, aesthetics, top class raw material etc. are kept into consideration. Latest designs and fabric are also explored during each new production. ESR believes in being business partner and consultant with every client it handles. Combining both ESR and continuous knowledge gathered from clients, it aims at providing specific turnkey solutions that fit every budget and serve value for money to client. Thorough testing is done by the QC arm of the company to satisfy all guidelines and norms. ESR audiology rooms and cabins are being used across India in almost segments. We are highly committed to providing customer centric products satisfying all the needs of client. ESR team of experienced engineers, designers, craftsmen has developed high reputation in developing acoustic solutions like acoustic enclosures, audiometry booth and auditorium acoustics. All the factors related to aesthetic, frequency, noise, pitch, intensity, finish are taken care with precision. ESR Systems has been covering hospitals, schools, factories, home and almost each and every area requiring audiometric rooms/ audiology booth through its wide range of customized booths and rooms. We cater to all kinds of audiometry room and booths ranging from ENT rooms, Telephone booths, Noise Testing chambers. We also provide movable audiometric booths.

---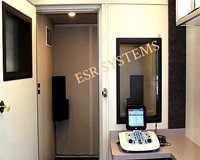 Audiometric Testing Room
ESR has sound experience in developing and installing Audiometric Testing Room, we provide single house solution when it comes to acoustics including audiology test rooms, audiometric rooms. We have highly experienced workforce guided by qualified and experienced engineers and governed by focused management. Majority of engineers are certified from top institutes. Major consideration of Audiometric Testing Room is to prevent the outer noise and create noise free environment. Audiometric test rooms are made to conduct error free tests by practitioners and keep complete privacy in room. In today's world with external noise form traffic etc. creates lot of problem in conducting tests, Audiometric test room allow to prevent such disturbances to creep in and create peaceful and silent environment. All different parameters like reverberation, echo, frequency etc are precisely controlled by us and measured using sophisticated instruments. ESR strives in being the extended arm of the customer. We develop audiometric room after thorough discussions with the end users. Each and every need of client is tried to be fulfilled while developing the audiometric room. Complete research is done for each audiometric room. We also act as consultant for client in suggesting the correct acoustical solution and recommending any changes in design of audiometric room suggested by them. Depending upon the need and budget constraint we offer the best audiometric room. We continuously explore the market for best and cheap raw material and latest advancement in sound proofing techniques of audiology booths and audiometric rooms. We also offer bespoke audiometric room apart from standard rooms. We guarantee that we will satisfy all kinds of needs when it comes to developing audiometric testing room or audiology test booth.

---
Audiology Room
ESR Systems has experience in developing Audiology Rooms over a decade. Our entire staff is highly skilled; engineers are top college qualified and most are members of the Institute of Acoustics. Highly experienced team having in depth knowledge of sound/acoustic should be consulted when it comes to developing audiology rooms. ESR system can play vital role right from the start of developing the audiology room. Audiology rooms should be highly sound proofed and should stop all the external disturbances affecting the integrity of test procedures. In today's world of increasing sound pollution via ever-growing traffic and other chaos in market and streets, it becomes utmost important for doctors to have audiology rooms with high precision. Such accuracy required by Audiology rooms can only be achieved by experts from companies like ESR Systems. ESR acoustic experts can assist in all aspects of audiology room design, location, feasibility etc. in order to achieve best performance and effectiveness. Depending upon requirement and budget constraints we can offer rooms/booths from our standard ranges and bespoke facilities, customized to meet exact need. We help in providing value for money and making customer feel experience apart from just product.

---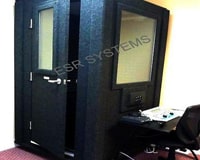 Audiology Test Room
ESR Systems Audiology Test Room are designed and constructed to the best quality and satisfy all the technical standards and legal norms. ESR Audiology Test rooms are standard as well a highly customized as per the needs of individual requirement. ESR Systems rooms are made of superior quality acoustic material and metal. They have best in class fabric finish, proper ventilation facility, and sound proof acoustic doors, suspended tile ceiling, proper LED lightning, color matched carpet / flooring, proper switches and sockets. In addition to above mentioned basic facilities ESR also has options for double glazed acoustic windows, air conditioning systems, specially prepared Jack Panels, high quality audiometers, emergency lighting and such other additional features. ESR guarantees you of a professional service that is guaranteed and backed by team of adroit professionals. We do thorough requirement analysis before starting production; at times third party consultation is also done. Detailed drawing are submitted to client for approval before start of work. We are known for creating experience rather than product or service.

Services
DG Genset Canopy
Acoustic Enclosure
DG Room Acoustic
Auditorium Acoustic
Disco Room Acoustic
Audiometric Booth
Studio Acoustic
Machine Acoustic
Acoustic Treatment
Soundproof Room
Acoustical Partition
Noise Test Chamber
Conference Room Acoustic
Anechoic Chamber
Ducting and Cladding
Theater Acoustic
Noise Barriers
Acoustic Doors
Engine Testing Room
Roof Ceilings
DG Set Exhaust Piping
New Items